Equipment Servicing & Modernization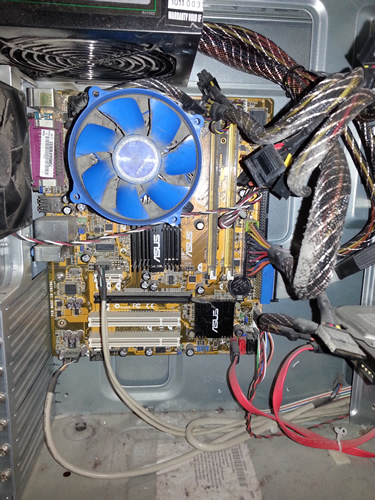 We help resolve issues such as this machine that had signficant overheating due to dust buildup in a fan.
.
We have just the right solution for your out-of-service desktop computers, laptops, workstations, servers, and your other Windows-based PCs. We even work on aging systems that run proprietary health care, manufacturing, or other industry-specific software essential to keep your enterprise operational.


Our process involves deploying consistent and reliable metrics, software, and other tools to help meet and even exceeding manufacturer specifications for PC systems. We even offer offices and other commercial entities with numerous computers regularly scheduled maintenance checkups for both hardware and software purposes.

On the software side, we make sure that your antimalware solutions are functioning properly and that applications are conflict-free, that programs are not running unnecessarily, and more.

Among other benefits on the hardware side, maintaining the computer helps to ensure that your processors and hard drives are not overperforming unnecessarily causing excess heat build-up, early fan failure, and other problems that can ultimately lead to more headaches and subject other more serious breakdown within the computer.

If you suspect this might be happening with your computer, we can provide a free diagnostic to resolve problems with your machine. Inquire with us also to see if we provide on-site solutions depending on your location, as well.



Since Y2k, integriCORE has strived to provide a superior approach to information technology consulting with proven solutions that include a full slate of services such as technology consulting, website design, website hosting, domain name registration, search engine optimization, social media & listing submissions, PCs & equipment, computer diagnosis & repair, system & software support, networking and wireless, wiring installations, branding and promotional campaigns, logo & graphic design, and photography & videography. Based out of Evansville, Indiana, whether you are an entrepreneur, business owner, or represent an organization or advocacy group, we offer integrity-infused solutions that can be tailored for your specific IT needs.